Southwest Regional 2019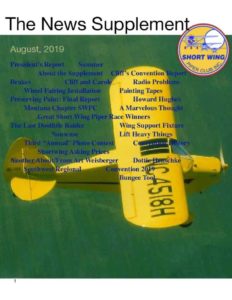 Southwest Regional in Arkansas? Sure. The Southwest is anywhere we want it to be.
(This note is from Michael Coghlan. It also appears in the August Supplement to SWPC News)
September 15 thru 18/19th 2019.
Coordinators, Sid and Sue Brain. 1-479-264-4517. Michael Coghlan I-870-350-5531 but only after the 11th Sept for Michael.
Location, Eureka Springs, AR HW 62. HOTEL, Best Western Eureka Inn, phone # 4792539551
(there are two Best Westerns in Eureka, Both on Highway 62, Eureka Inn is on the left, heading East
immediately past the L/H turn to the old town). THERE ARE 15 ROOMS HELD FOR US, but YOU HAVE TO
INDIVIDUALLY BOOK YOUR ROOM BY THE 28TH JULY. PHONE # 1 479 253 9557. $85 plus tax.
Airport, Carroll County: 4M1, Eight miles East of Eureka on Highway 62. Manager: Michael Phifer ph # 1 870
423 8393. There are 3 courtesy cars available, must be pre-booked. there will be a van and driver from 1200 till
2000 hr on the 15th for transport to the hotel.
This is a family and friend gathering. There are trams for transport around the town and surrounding area. You
can buy 1 and 2 day passes, priced @ 1 all-day $6, 2 all-day $10, child 7 thru 11 $2. Four separate routes: color-coded. You can get on and off @ any of the stops. Eureka has a very varied and interesting assortment of venues,
something of interest for all age groups. See the list of some below. There are also many pretty and easy to get to
walks close to the town or from the trams. For those that fly in, we will have a fly-out visit over some very pretty
and interesting Ozark country with an interesting airport and good restaurant during the flight. There are also
many very nice drives through the hills and past the many lakes in the local area. This is just a great place to
visit.
Because of the amount of varied and interesting places to visit, except for Monday, where we go will be
decided by voting on Sunday evening. Monday, however, is as follows:
Morning tram ride around the old town
and places of interest, (there is a charge for this fully narrated tour). Then, lunch, and an afternoon visit to
TURPENTINE CREEK wildlife refuge. And then for the other days, we'll vote, from the list below which will
be added to.
WAR EAGLE MILL
THE GREAT PASSION PLAY
COSMIC CAVERN
THE SAUNDERS MUSEUM
WAR EAGLE CAVERN,
GOLDEN MUSEUM,
CRESENT HOTEL,
CRYSTAL BRIDGES MUSEUM.